We have been working with Down syndrome organizations across the world to help advocate for vaccination prioritization based on the scientific evidence, including the results of T21RS surveys, that suggest that adults with Down syndrome should to be considered as a risk population for COVID-19. Together, we have co-hosted several webinars to highlight the unique risks associated with COVID-19 in people with Down syndrome.
Webinar celebrated on March 2021 supporting COVID-19 vaccination prioritization in Down syndrome
COVID-19 vaccination of individuals with Down syndrome around the world
AFRICA
AMERICA
In Brazil, people with Down syndrome <18 were prioritized to receive vaccines in group 3, along with other people with comorbidities. Group 1 includes health professionals, institutionalized people, indigenous and quilombolas. Group 2 includes the elderly population (they are being vaccinated in February and March). However, Brazil has not enough doses to run a large campaign and vaccinate quickly. People with Down syndrome living in institutions have already been vaccinated. However, for the most of individuals with Down syndrome vaccination will not start until April.  As the decision to vaccinate a specific group can be made by states or cities, regardless of the orientation of the federal government, only few cities have already started vaccinations for adults with Down syndrome.
(Updated on March 30, 2021)
In Canada, you can find a useful provincial and territorial vaccine tracker developed by Ready For My Shot. They are a grassroots, family-led group which are advocating for Canadian provincial governments to prioritize people with Down syndrome and other developmental disabilities for the COVID vaccine. 
The actual delivery sequencing is determined provincially, with inconsistencies across the board. E.g. Ontario has 34 health units. There are 34 versions of the exact delivery, depending on vaccine supply but overall everything is trending towards everyone who wants a vaccine being able to get one sometime between April and July in the provinces who have identified individuals with DS as eligible ahead of  groupings of their similarly-aged peers. Some provinces include caregivers along with the riskier groups, some do not. Nowhere were individuals with DS moved into their Phase 1 rollout along with the elderly in congregated setting and front line workers. Delivery is further along in all three Territories, considerably smaller populations, more supply, Indigenous groups etc.
(Updated on March 2021)
In US, CDC's recommendation to states with respect to people with intellectual disabilities are:
"It is important that people with disabilities get the COVID-19 vaccine when they are able to. The COVID-19 vaccine is being given to people by "Phase". CDC makes recommendations for who should first be offered COVID-19 vaccine. Each state then creates its own vaccination plan given the needs of its communities. The CDC recommendations for order of COVID-19 vaccinations are:
People in Phase 1a are healthcare workers and people who live in long-term care homes.
People in Phase 1b are adults who are 75 years and older and essential workers.
People in Phase 1c are adults who are 65 years and older, essential workers who were not in Phase 1b, and people 16 years and older who have high-risk medical conditions.
People in Phase 2 are all people 16 years and older living in the United States.
People with disabilities can be a part of any of these phases. Some states include people with disabilities in Phase 1a or Phase 1b"
Here is an update on Georgia, just to provide an example of the variability state-by-state:
"Governor Brian Kemp announced an expansion of vaccine eligibility for Georgians effective March 8. The governor also announced the state will no longer use tiers—such as 1A or 1B—to outline current and future groups eligible for vaccination.
As of March 8, those eligible for vaccination include:
Pre-K through 12 educators and staff
Adults with intellectual and developmental disabilities and their caregivers*
Parents of children with complex medical conditions*
*Determination of what constitutes a disability or pediatric complex medical condition is being determined by the Georgia Department of Public Health. Once definitions are confirmed, additional information and resources will be shared.
Those who fit the new criteria join those who were already eligible for vaccination, including:
Individuals 65 years of age and older and their caregivers
Health care personnel and long-term care facility residents and staff
Law enforcement, fire, EMS personnel, and 911 operators"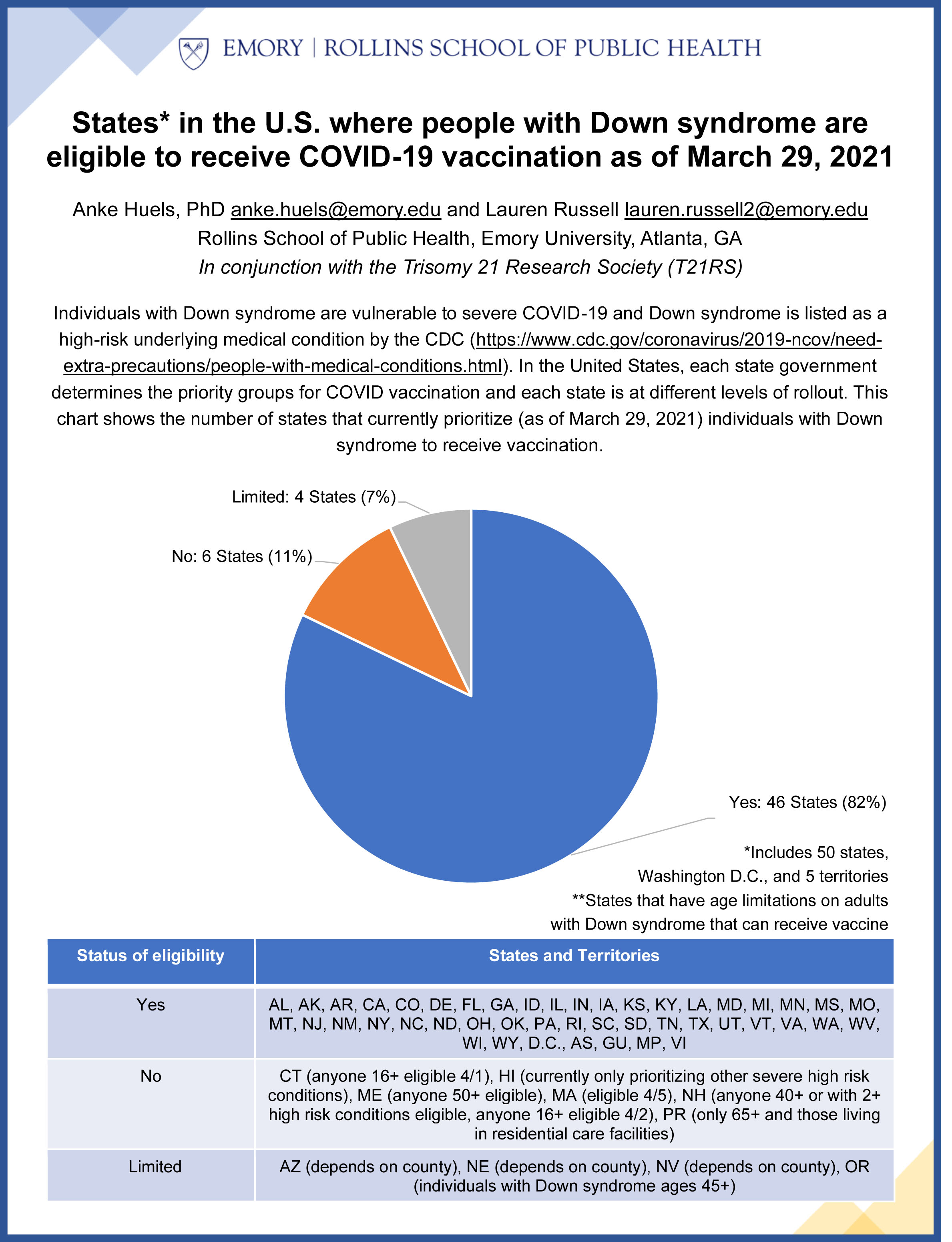 ASIA
In India, the Department of Health and Family Welfare in its latest declaration on 1st March 2021 has prioritised Intellectual disability group including Down syndrome for COVID-19 Vaccination. Following is the summary of the policy launched by the Government of India.
Registration for vaccination
All the individual including priority groups need to be registered on the  Co-WIN Portal and have to fix a schedule for vaccination appointment.  https://www.cowin.gov.in/home
Modality of registration
Individual has to give some basic information about himself and details of his photo identification card to be registered online. For intellectual disability groups, parents or near relative or care giver have to furnish the process.
From one mobile phone number, one can register 4 people, however, each person will need their own photo identification document.
If Aadhar card (a national identification proof) is used as identification document, consent will be obtained and recorded.
Through the portal, you can find out the list of available CVCs and dates and time of available vaccination slots, to book an appointment as per your choice. You will need an OTP verification prior to registration and a confirmation slip/token will be generated after registration. You will also get a confirmatory SMS later.
Those who cannot get themselves registered online (including person with intellectual disability) can contact himself or their parents, relatives, care givers can contact local Government health workers, who will help the beneficiaries to the Government CVC for on the spot registration, appointment, verification and vaccination on the same day.
Venue for vaccination
Vaccines are available from Government and Private Health Facilities as notified, known as COVID Vaccination Centres (CVCs).
Documents that are required for registration of eligible beneficiary
Any of the below mentioned ID with Photo may be produced at the time of registration:
Aadhaar Card, Driving License, Health Insurance Smart Card issued under the scheme of Ministry of Labour, Mahatma Gandhi National Rural Employment Guarantee Act (MGNREGA) Job Card , Official identity cards issued to MPs/MLAs/MLCs, PAN Card, Passbooks issued by Bank/Post Office, Passport, Pension Document, Service Identity Card issued to employees by Central/ State Govt./ Public Limited Companies, Voter ID.
People with comorbidities and intellectual disability including Down syndrome will have to carry the certificate of comorbidities or intellectual disability, in the format shared here by a registered medical practitioner/clinicians.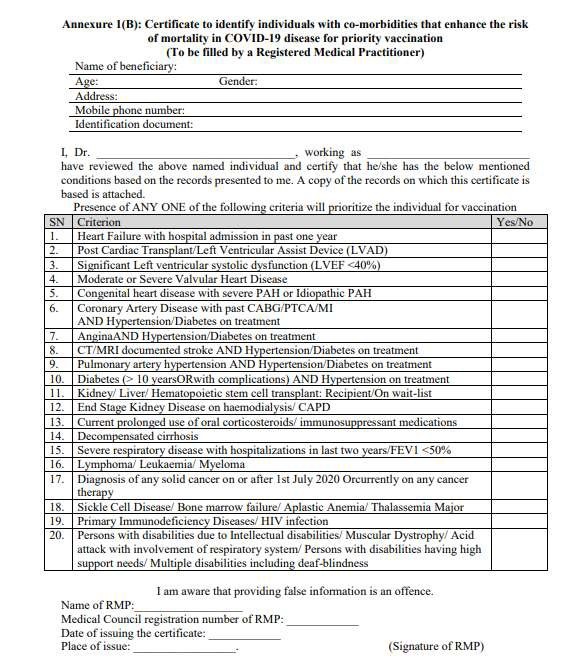 Age bar for vaccination:
People including those having co-morbidities of age 45 years and above are eligible for vaccination.
Intimation of information on the status of vaccination after completion
On getting due dose of COVID-19 vaccine, the beneficiary will receive SMS on their registered mobile number. After all doses of vaccine are administered, a QR code based certificate will also be sent to the registered mobile number of the beneficiary.
Issuance of certificate for vaccinated individual
A provisional certificate would be provided after the first dose. On completion of second dose, when an individual receive the message for completion of schedule it would include a link to download digital certificate of vaccination. This certificate can be then be saved in the digi-locker.
Composition of Vaccine
Composition of Covishield includes inactivated adenovirus with segments of Coronavirus, Aluminium Hydroxide Gel, L-Histidine, L-Histidine Hydrochloride Monohydrate, Magnesium Chloride Hexahydrate, Polysorbate 80, Ethanol, Sucrose, Sodium Chloride, and Disodium Edetate Dihydrate (EDTA).
Composition of Covaxin includes inactivated Coronavirus, Aluminum Hydroxide Gel, TLR
7/8 Agonist, 2-Phenoxyethanol and Phosphate Buffered Saline [NKA1].
Comment: Covishield® vaccine, manufactured by the Serum Institute of India, is based on the same patent technology as the Astrazeneca vaccine.
The dose schedule of both the vaccines
The time interval between two doses of the Covishield vaccine has been extended from four-six weeks to four-eight weeks. The second dose of Covaxin can be taken four to six weeks after the first.
Contraindication
I. Persons with history of:
Anaphylactic or allergic reaction to a previous dose of COVID-19 vaccine
Immediate or delayed-onset anaphylaxis or allergic reaction to vaccines or injectable therapies, pharmaceutical products, food-items etc.
II. Pregnancy & Lactation:
Pregnant & Lactating women have not been part of any COVID-19 vaccine clinical trial so far. Therefore, women who are pregnant or not sure of their pregnancy; and lactating women should not receive COVID-19 vaccine at this time
III.       Provisional / temporary contraindications:
In these conditions, COVID-19 vaccination is to be deferred for 4-8 weeks after recovery
Persons having active symptoms of SARS-CoV-2 infection.
SARS-COV-2 patients who have been given anti-SARS-CoV-2 monoclonal antibodies or convalescent plasma
Acutely unwell and hospitalized (with or without intensive care) patients due to any illness.
(Updated on March 30, 2021)
EUROPE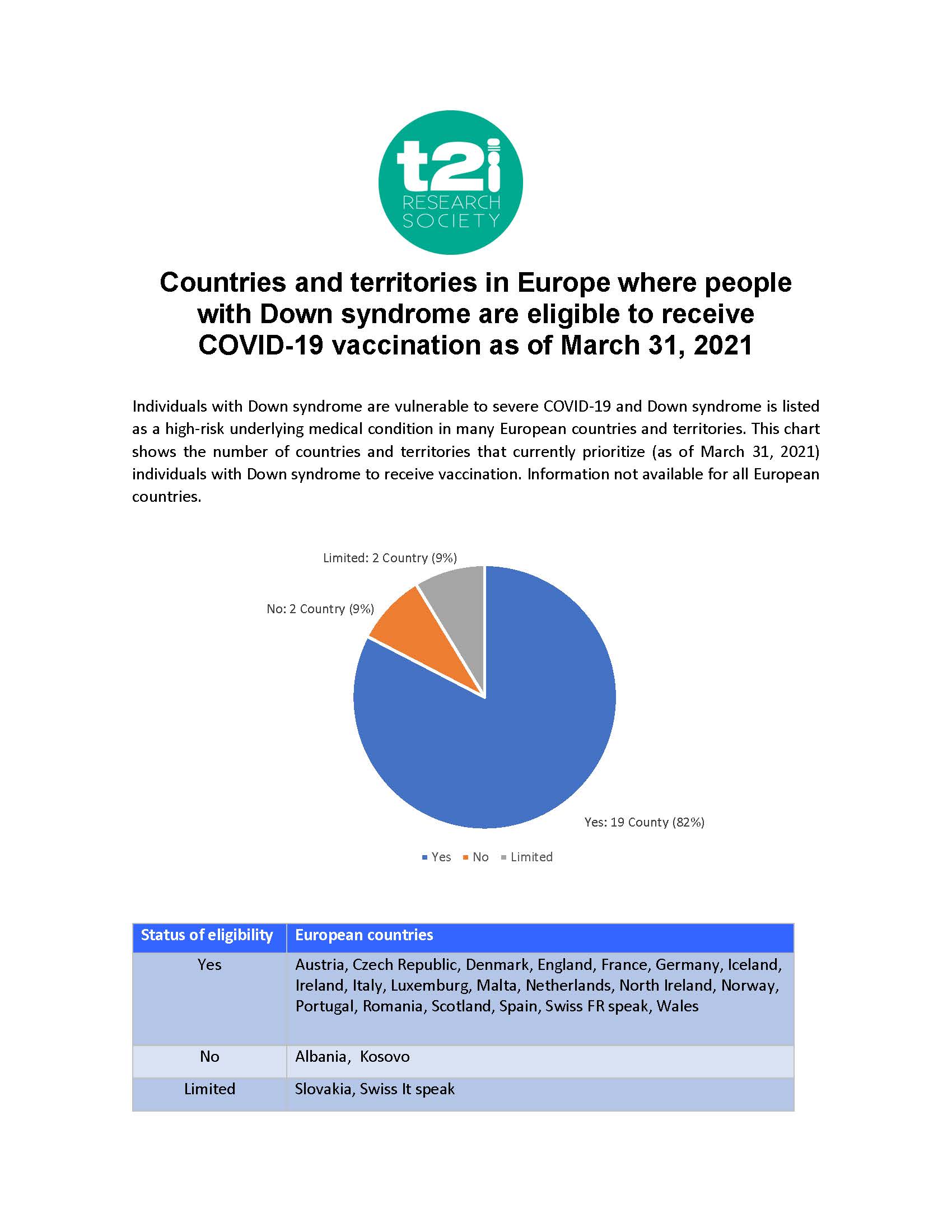 In Czech Republic, the official priority classification for Covid vaccination does not mention Down syndrome specifically, but it does mention mental disabilities and genetic diagnosis (Down syndrome is included in both of them) in the second priority category, where also people aged 70-79 years and patients with other serious diagnosis are included.
(Updated on March 30, 2021)
In France, adults with DS (aged over 18)  have been prioritized for vaccination since the beginning of the campaign.
–          Phase 1 (started on 27/12/2020): elderly people living in nursing homes and health workers aged over 50
–          Phase 2 (started on 15/01/2021): all elderly people aged over 75, adults with comorbidities at very high risk including T21 and all adults with disabilities living in residential care facilities, followed by health workers of all ages, people aged 65-74 then 50-64, starting with those with comorbidities
–          Phase 3 will be dedicated to people 18-49 with comorbidities
 The HAS (Haute Autorité de Santé/French National Authority for Health), the french agency which guides the vaccination strategy has updated today its recommandations. It emphasizes the role of age as the major risk factor for hospitalization and death, including in individuals with DS (after 40), referring to the T21RS publication.
(Updated on March 2021)
In Italy, the anti-covid vaccination started at the end of December 2020 with the so-called Phase 1, which included health and social care providers, staff and residents of residential care facilities for the elderly, seniors over 80.
Since the beginning of March 2021, Phase 2 has begun, dedicated to all those segments of the population considered at high risk.
Thanks to the important input of patient associations, with the support of t21rs researchers, people with Down syndrome have been included in the first category that will be vaccinated as persons considered extremely vulnerable due to the known issues with the immune system and high prevalence of heart conditions. In the picture you can see some of the first subjects with Down syndrome vaccinated in Rome on March 2.
(Updated on March 2021)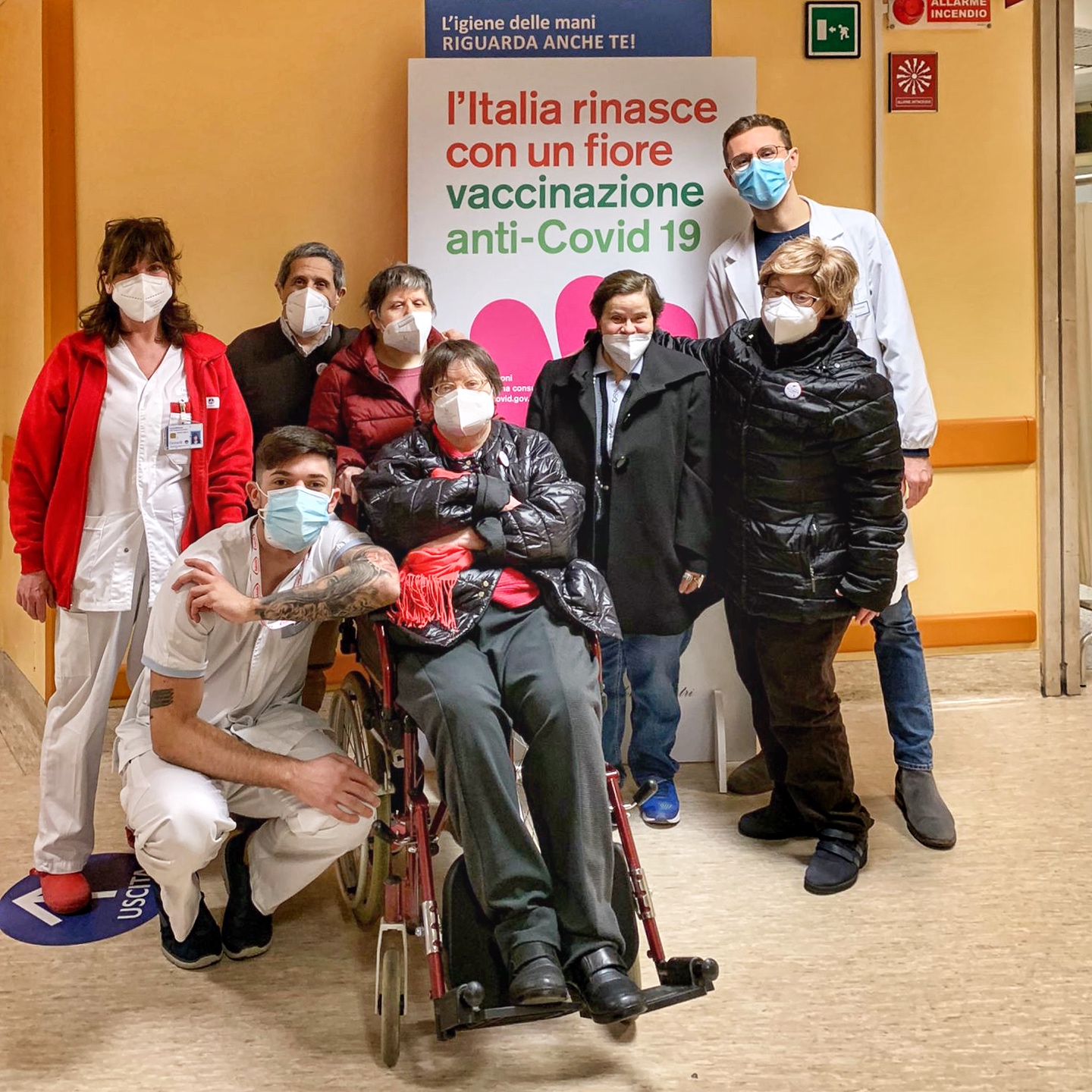 In Germany, on 10 December 2020, the Robert Koch Institute (RKI), the federal government agency and research institute for disease control and prevention in Germany, requested that scientific recommendations be developed for the Federal Minister of Health and the Standing Committee on Vaccination (STIKO) as a basis for establishing prioritization criteria for vaccination against SARS-CoV-2.
A working group was established and tasked with evaluating the literature on COVID-19 in individuals with trisomy 21.
In particular, the large population-based cohort study by Clift et al., which analyzed the data of 8.26 million adults in the UK, estimated that the adjusted risk of COVID-19-related death in patients with Down syndrome was 10 times that of the general population (hazard ratio [HR], 10.4; 95% confidence interval [CI], 7.1–15.2) and COVID-19-related hospitalizations were increased 5-fold [HR: 5.0; 95% CI 3.6–6.7).
Based on this analysis, STIKO and the Federal Ministry of Health on 18 December 2020 placed people with Down syndrome in the second-highest of three top-priority vaccination categories, together with, e.g., transplant patients, patients with severe chronic disease, and high-exposure healthcare professionals. In Germany there are now four categories: highest, high, and increased priority, and the remainder of the general population.
Prioritized coronavirus vaccination of individuals with trisomy 21 is from March underway in Germany.
(Written by Tilman R. Rohrer, MD)
(Updated on March 2021)
In Spain, residents in long-term facilities and non-institutionalized highly dependent people with DS were vaccinated. A recent official decree includes the priorization of people with DS > 40 to be vaccinated togeher with the general population aged 70-79. Depending on the region, vaccination for adults with DS >40 has already started or is planned to start next week.
(Updated on March 30, 2021)
In United Kingdom, the Joint Committee on Vaccination and Immunisation (JCVI) have prioritised vaccination for all adults with intellectual disabilities, including those with intellectual disabilities in long-stay nursing and residential care settings in priority group 6, while adults with Down syndrome (age 18 and older) have been included in group 4 (alongside adults in the general population aged 70 and older, and others deemed to be clinically extremely vulnerable).
(Updated on March 30, 2021)