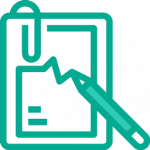 The Indian Chapter of T21 RS is working to facilitate research in the field of Down syndrome in Indian University and Institutions. It provides platform to share the research outcome among the Indian workers and cooperate and collaborate with other global bodies. The chapter is also intended to initiate some supports to Down syndrome children and their parents that are much needed backup under present Indian social.
List of Laboratories that carry Down Syndrome research in India
Cytogenetics and Genomics Research Unit
Department of Zoology
University of Calcutta.
35 Ballygunge Circular Road. Kolkata.West Bengal. India.
Pin 700019.
Monobikash Kendra
A center for mentally challenged children
482; Plot I-24sectr-j, Maruda, Haltu, Haltu, Kolkata, West Bengal. India. Pin 700107.
Department of Fetal Medicine, Mediscan Systems, 197, Dr Natesan Road, Mylapore, Chennai, 600 004 India.
Dept of Anatomy, Comprehensive Facility for Diagnosis and Management of Genetic Diseases (CFDMGD), Assam Medical College, Dibrugarh, Assam, India.
Department of Developmental Paediatrics and Department of Cytogenetics, Christian Medical College Hospital, Vellore, India.
Department of Pediatrics, Genetics Division, Seth Gordhandas Sunderdas Medical College and King Edward VII Memorial Hospital, Parel, Mumbai, Maharashtra, India.
Banaras Hindu University. Faculty of Science. Center for Genetic Disorders.
Banaras. Uttarpradesh. India.
Nirma University. Faculty of Science. Ahmedabad. Gujrat. India.
Department of Paediatric Medicine. Institute of Post Graduate Medical Education and Research. Kolkata. West Bengal. India.
Department of Haematology. Nilratan Sarkar Medical College and Hospital. Kolkata. West Bengal. India.
Charitable organization and parents support group that are linked with University of Calcutta Center
The Kolkata Down Syndrome Care Group
Chair: Mrs. Chaitali Gami.
News
One day seminar on prospective protection measures for Down syndrome children and their parents under epidemic or pandemic condition. The date will be declared after lifting of lockdown from the city. Tentative date is July 2020.
The Indian Chapter has joint to T21RS COVID-19 taskforce group to provide support to the Down syndrome bearing families under this critical situation.